From: nida baig <baignida05.yahoo.com>
Date: Sat, 23 Jul 2016 07:46:45 +0000 (UTC)
In the context of your reply, attach is the image of the protein in water box. After visualization what would you suggest should I repeat the simulation with large solvent box or if I ignore it , will the results and analysis be affect Dr Nida Baig
On Friday, July 22, 2016 5:28 PM, David A Case <david.case.rutgers.edu> wrote:
On Fri, Jul 22, 2016, nida baig wrote:
> I have run 50ns simulation of an intrinsically disordered protein. The
> protein's C-terminal region is very flexible and when I visualize the
> mdcrd of the trajectories two to three residues of the protein comes out
> of the water box. I use the under mention commands to re-image the mdcrd
> trajectories but still the protein comes out of the water box. Actually
> it comes out and goes back again than flexes  out again. Is this is
> going to affect my analysis if yes how to correct it.
In periodic systems, residues never "come out of the box": they just move
to the adjacent water box.  Imaging tries to pack the waters into a compact
unit cell around the origin.  If the entire protein cannot fit into such a
box, it will appear that some residues are outside.
If this is indeed the problem, you can (a) ignore it; (b) use a larger solvent
box.
...dac
_______________________________________________
AMBER mailing list
AMBER.ambermd.org
http://lists.ambermd.org/mailman/listinfo/amber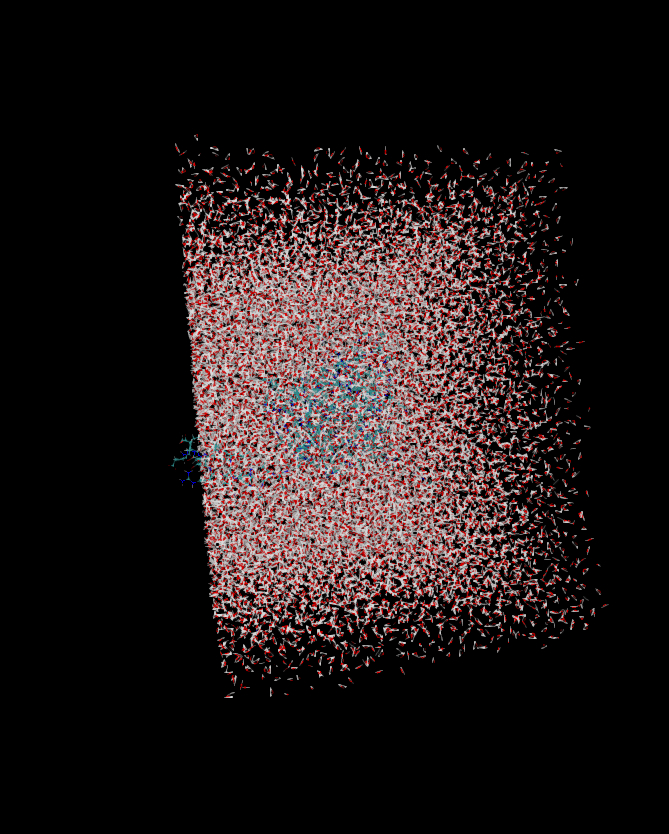 (image/jpeg attachment: protein.jpeg)
Received on Sat Jul 23 2016 - 01:00:02 PDT