Re: [AMBER] gpu_download_partial_forces: download failed unspecified launch failure
From: Ashutosh Shandilya <izerokelvin.gmail.com>
Date: Tue, 19 Nov 2013 21:17:48 +0530
I think extra point issue is resolved but this
(gpu_dowload_partial_forces:download_failed unspecified launch failure) is
still there. As suggested
I checked it gave the the same output.
Attached is the screen shot. Please help.
On 18 November 2013 23:02, Daniel Roe <daniel.r.roe.gmail.com> wrote:
> Hi,
>
> On Sun, Nov 17, 2013 at 10:41 PM, Ashutosh Shandilya
> <izerokelvin.gmail.com> wrote:
> > Earlier I got different errors which were sorted out
> >
> > numextra > 0 (in parallel) *Extra points are only supported in the serial
> > GPU code at present.*
> > I made all the required changes without any extra point etc when it
> should
> > run but I still got this error.
>
> It would help if you were more specific about what the system you are
> trying to simulate is (are you e.g. trying to use the TIP4P water
> model?) and what specific steps you've taken to try and solve the
> problem. If your topology has any extra points it will not run using
> pmemd.cuda.MPI. If you're not supposed to have any extra points in
> your topology, it's possible something strange is going on. If you
> would like, send me your topology (off-list) and I will look it over.
>
> > I looked at internet it says to include bugfixes. I have installed all
> the
> > bugfix still the problem persists.
>
> Make sure you see this in your output:
>
> |--------------------- INFORMATION ----------------------
> | GPU (CUDA) Version of PMEMD in use: NVIDIA GPU IN USE.
> | Version 12.3.1
>
> If the version number is any lower you don't have the most recent bugfixes.
>
> -Dan
>
> >
> > Please have a look
> > _______________________________________________
> > AMBER mailing list
> > AMBER.ambermd.org
> > http://lists.ambermd.org/mailman/listinfo/amber
>
>
>
> --
> -------------------------
> Daniel R. Roe, PhD
> Department of Medicinal Chemistry
> University of Utah
> 30 South 2000 East, Room 201
> Salt Lake City, UT 84112-5820
> http://home.chpc.utah.edu/~cheatham/
> (801) 587-9652
> (801) 585-6208 (Fax)
>
> _______________________________________________
> AMBER mailing list
> AMBER.ambermd.org
> http://lists.ambermd.org/mailman/listinfo/amber
>
_______________________________________________
AMBER mailing list
AMBER.ambermd.org
http://lists.ambermd.org/mailman/listinfo/amber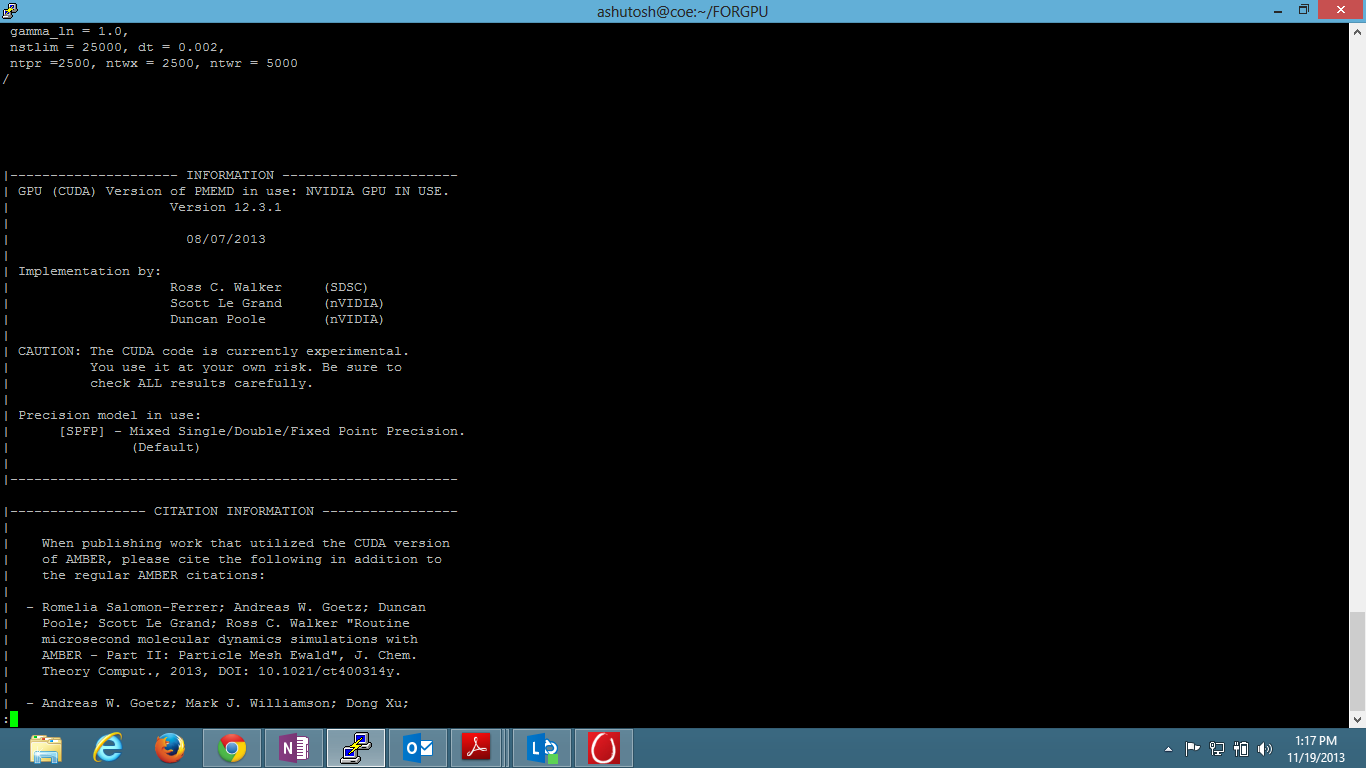 (image/png attachment: amber-issue.png)
Received on Tue Nov 19 2013 - 08:00:02 PST
Custom Search