From: Marek Maly <marek.maly.ujep.cz>
Date: Tue, 02 Jul 2013 00:48:37 +0200
Hi Dan,
thanks it works great !
See attached figure.
case 1 = inpcrd file
case 2 = heat.rst (NVT with iwrap=1)
case 3 = case 2 autoimaged
Maybe iwrap implementation might be done the same way as autoimage as it
seems
that if periodic box is set other way than "setbox UNIT vdw" (which is
perhaps also
default if one use tleap solvation like solvatebox, solvateoct ) the iwrap
function
tend to be too much creative :))
Once more thanks !
Best wishes,
Marek
Dne Mon, 01 Jul 2013 21:30:27 +0200 Daniel Roe <daniel.r.roe.gmail.com>
napsal/-a:
> Hi,
>
> On Mon, Jul 1, 2013 at 12:26 PM, Marek Maly <marek.maly.ujep.cz> wrote:
>> This (or something close to this) perhaps could be done with image
>> action of
>> the ptraj/cptraj.
>
> I would be interested to know if 'autoimage' from cpptraj works for
> you since I haven't had many chances to test it with lipid bilayer
> systems (although I have heard anecdotal evidence from others that it
> seems to work fine).
>
> -Dan
>

-- 
Tato zpráva byla vytvořena převratným poštovním klientem Opery:  
http://www.opera.com/mail/



_______________________________________________
AMBER mailing list
AMBER.ambermd.org
http://lists.ambermd.org/mailman/listinfo/amber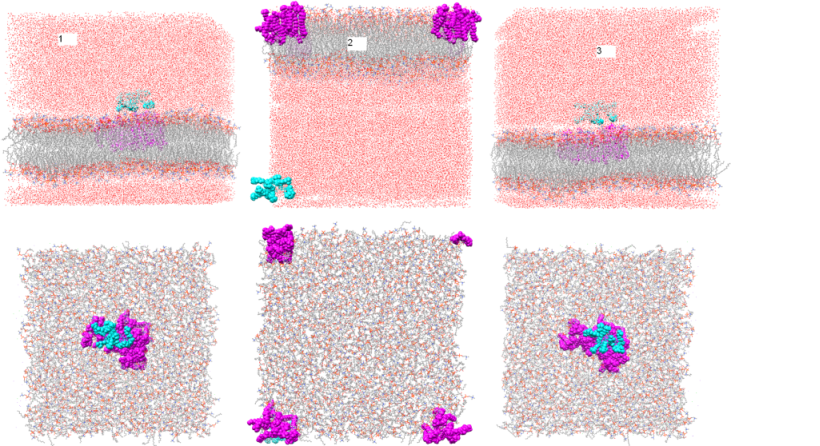 (image/png attachment: autoimage.png)
Received on Mon Jul 01 2013 - 16:30:02 PDT