From: senal dinuka <senal.ichemc.edu.lk>
Date: Tue, 8 May 2018 12:04:21 +0530
Dear Amber users,
I am hoping to perform a SMD QM/MM for glucosidase-glucoside complex. I was
able to successfully locate and confirm TS for glucoside hydrolysis
reaction. My TS contains an active site residue intact. Hence i can't use
the TS as it is due to the presence of the same residue in original crystal
structure and i don't suppose it is a good approach to remove residue part
from TS because then it would change the TS entirely. I really appreciate
any suggestion or otherwise on this matter.
Furthermore I have attached my TS structure with this. How would you
recommend using RESP charge derived prmtop rather than using GLYCAM
forcefield (due to the deviation from standard carbohydrate structure) ?
Looking forward to hear your help.
Best Wishes,
D L S Dinuka

-- 
D L Senal Dinuka
Grad.Chem., A.I.Chem.C.
Research Assistant
College of Chemical Sciences
Institute of Chemistry Ceylon
Rajagiriya
Sri Lanka
+94 77 627 4678



_______________________________________________
AMBER mailing list
AMBER.ambermd.org
http://lists.ambermd.org/mailman/listinfo/amber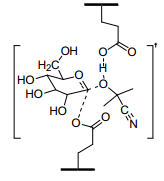 (image/png attachment: image.png)
Received on Tue May 08 2018 - 00:00:02 PDT